22.05.2017 | Ausgabe 1/2017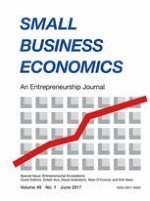 The adaptive life cycle of entrepreneurial ecosystems: the biotechnology cluster
Zeitschrift:
Autoren:

Philip E. Auerswald, Lokesh Dani
Abstract
We propose an empirical framework for assessing the vibrancy and trajectory of regional entrepreneurial ecosystems. We apply this framework to study the US National Capital Region's localized cluster of biotechnology-related entrepreneurship by building our analysis around a set of indicators of ecosystem vitality proposed by Stangler and Bell-Masterson (
2015
). This application constitutes an initial attempt at mapping the dynamics of an industry cluster within the adaptive life cycle of a wider regional ecosystem. We find that the biotechnology cluster in the National Capital Region entered a "reorientation" stage in the early 2000s, building up stored energy, capital, and connectedness in non-research-oriented activities. An increasing regional presence of large biotech firms in the past 5 years, a highly active and diverse start-up sector, increasing merger and acquisition activity, and declines in regional public funding for medical and clinical trials all suggest a transition of entrepreneurial activity in the region from a dynamic driven by federal research spillovers to one increasingly driven by private sector actors.