2018 | OriginalPaper | Buchkapitel
The Aerodynamics Development of the New Land Rover Discovery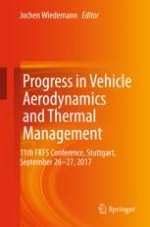 Erstes Kapitel lesen
Autoren: Sébastien Chaligné, Ross Turner, Adrian Gaylard
Abstract
With ever stricter emissions regulations and the upcoming certification procedure defined in WLTP, the importance of aerodynamics for OEMs is increasing. This paper presents the aerodynamics development of the fifth generation Land Rover Discovery and gives an insight into the recent migration towards the use of new tools and processes to ensure future vehicles' compliance is achieved.
In the early development stages, numerical methods were exclusively used to optimise the main proportions of the vehicle, as well as to understand sensitivities and draw a road-map to attain the aerodynamics attribute targets. A full-scale test property ("Aerobuck") was then built and tested in the fixed-ground MIRA Full Scale Wind Tunnel (FSWT) to optimise specific areas in order to reduce the drag coefficient. These tests were done in combination with an extensive use of CFD to enable a better understanding of the flow fields and mechanisms involved. Finally, the development of an aerodynamically optimised wheel enabled the lowest drag coefficient to date for a Land Rover SUV, CD = 0.33.
Although certified in the MIRA FSWT, the validation process has also seen prototypes tested in the moving-ground FKFS Aeroacoustic Wind Tunnel (AAWT) benefiting from 5-belt ground simulation. A direct comparison between experimental and numerical results has also been made; they generally show good agreement between the two tools except for the prediction of so-called "cooling drag".