09.12.2016 | Review Paper | Ausgabe 4/2017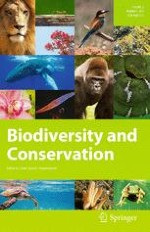 The amphibian microbiome: natural range of variation, pathogenic dysbiosis, and role in conservation
Zeitschrift:
Autoren:

Randall R. Jiménez, Simone Sommer
Wichtige Hinweise
Communicated by Dirk Sven Schmeller.
Abstract
Recent research in humans, livestock, and wildlife using high-throughput next-generation sequencing (NGS) has identified that resident microbiota play an essential role in disease resistance, host health, and adaptation to biotic and abiotic stressors. Since amphibians are currently facing population declines and extinctions attributable to anthropogenic pressures and emerging diseases, an understanding of the effects of microbiome dysbiosis and mitigation is a prerequisite for amphibian conservation and disease management. Interest is now growing with regard to understanding the influence of unfavorable environmental conditions on the amphibian microbiome and the effects of dysbiosis on the susceptibility to pathogenic infections. Here, we summarize information on the amphibian microbiome, specifically concerning intrinsic and extrinsic factors that shape the skin and gut microbiome. We explore diverse types of unfavorable environmental perturbations and the ways in which they can impact the microbiota of an individual so that we can better comprehend the consequences of stressors and dysbiosis on pathogen emergence and health. We discuss the role of the microbiome in amphibian conservation and identify gaps of knowledge that need to be filled if we are to achieve a meta-organism conservation approach. NGS studies should be complemented with other high-throughput "-omic" approaches to target microbiome functionality. Understanding the microbiome might be the missing piece in the overall strategy that will help maintain the health of amphibians in a world with highly affected environments and that will prevent/mitigate emerging infectious diseases.