2018 | OriginalPaper | Buchkapitel
The Analysis of Influential Users Evolution in Microblogging Social Networks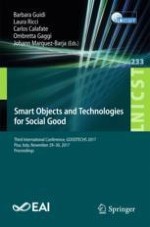 Erstes Kapitel lesen
(Extended Abstract)
Autoren: Giambattista Amati, Simone Angelini, Giorgio Gambosi, Gianluca Rossi, Paola Vocca
Abstract
In this paper, we study the evolution of the most influential users in the microblogging social network platform Twitter. To this aim, we consider the
Dynamic Retweet Graph (DRG)
proposed in [
3
] and partially analyzed in [
2
,
4
]. The model of the evolution of the Twitter social network is based on the retweet relationship. In a DRGs, once a tweet has been retweeted the last time all the edges representing this tweet are deleted, to model the decay of tweet life in the social platform.
We consider the following measures of centrality:
degree, closeness, and pagerank-centrality
which have been widely studied in the static case. Here we analyze them on the sequence of DRG temporal graphs with special regard to the distribution of the
\(75\%\)
most central nodes.
We derive the following results: (a) in all cases the closeness measure produces many nodes with high centrality, so it is useless to detect influential users; (b) for the other measures almost all nodes have null or very low centrality and (c) the number of vertices with significant centrality are often the same; (d) the above observations hold also for the whole DRG and, (e) central nodes in the sequence of DRG temporal graphs have high centrality in static graphs.