2018 | OriginalPaper | Buchkapitel
The Analysis of Tourism and Economic Growth Relationship in Central and Eastern European Countries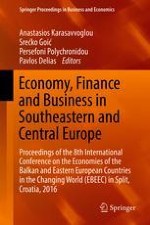 Erstes Kapitel lesen
Autoren: Zvonimir Kuliš, Blanka Šimundić, Smiljana Pivčević
Abstract
Contemporary international tourism generates economic flows which have become vital for economic growth, trade, and international economic relations in many countries, especially developing ones. Being based upon sources of receipts and consumption in situ, international tourism is regarded as a nonstandard type of export. For that reason, many governments are paying greater attention to supporting and stimulating tourism as a potential source of economic growth. Central and Eastern European countries (CEECs), developing countries whose economic growth is facing many challenges, have also recognized this potential role of tourism. The aim of this paper is to study the impact of international tourism growth on economic growth in these countries in the 2000–2014 period.
For this purpose, an econometric model derived from a thorough literature review is formed. The estimation of tourism impacts in 19 CEECs is performed using the dynamic panel data model. The data used are collected from World Development Indicators (WDI) for the 15-year period. CEECs record an increase of international tourism in the given period, and the effects of tourism on the economic growth are expected to be positive and statistically significant. Additionally, the model includes other commonly used socioeconomic determinants of economic growth.
The contribution of this paper is in analyzing the effects of international tourism growth on a relatively new (not frequently used) group of countries to provide new insights in this still inconclusive research subject. Furthermore, the study used tourism growth as the independent variable as opposed to tourists' arrivals or tourists' overnights and receipts, frequently used in most of the studies. Limitations of the research are found in the unbalanced data for the time period used and time and cross-sectional restrictions. Besides new scientific insights, the paper provides valuable insights for policymakers in the area of economic and tourism development as well as suggestions for further research.