01.11.2011 | LIFE CYCLE IMPACT ASSESSMENT (LCIA) | Ausgabe 9/2011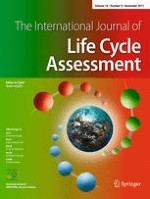 The anthropogenic stock extended abiotic depletion potential (AADP) as a new parameterisation to model the depletion of abiotic resources
Zeitschrift:
Autoren:

Laura Schneider, Markus Berger, Matthias Finkbeiner
Abstract
Purpose
Raw material availability is a cause of concern for many industrial sectors. When addressing resource consumption in life cycle assessment (LCA), current characterisation models for depletion of abiotic resources provide characterisation factors based on (surplus) energy, exergy, or extraction–reserve ratios. However, all indicators presently available share a shortcoming as they neglect the fact that large amounts of raw materials can be stored in material cycles within the technosphere. These "anthropogenic stocks" represent a significant source and can change the material availability significantly. With new characterisation factors, resource consumption in LCA will be assessed by taking into account anthropogenic material stocks in addition to the lithospheric stocks. With these characterisation factors, the scarcity of resources should be reflected more realistically.
Materials and methods
This study introduces new characterisation factors—the anthropogenic stock extended abiotic depletion potentials—for the impact category depletion of abiotic resources. The underlying characterisation model is based on the conventional model but substitutes
ultimate reserves
by
resources
and adds anthropogenic material stocks to the lithospheric stocks.
Results and discussion
A fictional life cycle inventory, consisting of 1 kg of several metals, was evaluated using different characterisation factors for depletion of abiotic resources. Within this analysis it is revealed that materials with relatively large anthropogenic stocks, e.g.
antimony
and
mercury
, contribute comparatively less to abiotic depletion when using the new characterisation factors. Within a normalized comparison of characterisation factors, the impact of anthropogenic stock results in relative differences between −45% and +65%, indicating that anthropogenic stocks are significant.
Conclusions
With the new parameterisation of the model, depletion of abiotic resources can be assessed in a meaningful way, enabling a more realistic material availability analysis within life cycle impact assessment. However, a larger set of characterisation factors and further research are needed to verify the applicability of the concept within LCA practice.