01.01.2014 | Original Paper | Ausgabe 1/2014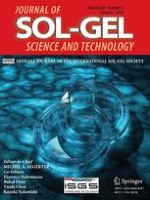 The anti-adherence and bactericidal activity of sol–gel derived nickel oxide nanostructure films: solvent effect
Zeitschrift:
Autoren:

Nasrin Talebian, Monir Doudi, Maryam Kheiri
Abstract
This study presents the characterization and antibacterial activity of nanostructure NiO films synthesized by sol–gel dip coating method using solvents of different polarities and viscosities without any catalysts, templates or surfactants. Methanol, 1,4-butanediol, ethanol, and 2-propanol were used as solvent. The antibacterial activity was tested against two common foodborne pathogenic bacteria
Staphylococcus aureus
(ATCC 25922) and
Escherichia coli
(ATCC 29213) using the so-called antibacterial drop test. X-ray diffraction, scanning electron microscopy, atomic force microscopy, UV–vis spectroscopy and static contact angles test were used to analysis the structure and morphology character, surface topography, optical property and surface wettability of different coatings, respectively. The characterization results showed different preferred crystallographic orientations, particle sizes, surface properties and optical band gap of NiO films according to the solvent physicochemical properties. The antibacterial efficiencies were affected by the physiological status of the bacterial cells and degree of bacteria adherence, morphologies and crystal growth habits, surface and optical properties of NiO samples.