2013 | OriginalPaper | Buchkapitel
6. The Arab Spring and Arms Control: Any Change in Arab Perceptions?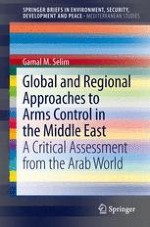 Erstes Kapitel lesen
Autor: Gamal M. Selim
Verlag: Springer Berlin Heidelberg
Abstract
The Arab world is at present undergoing one of its most profound political upheavals in decades. This is represented in the wave of the Arab Spring mass uprisings which has dominated the Arab world since 2011. The Arab Spring has sanctioned the beginning of a new chapter in Arab politics. It has broken the long-standing taboo that saw Arab leaders as immune from mass revolutions and viewed political change as a top-downwards process initiated by either military coups or foreign intervention. Indeed, the Arab Spring has signalled the first manifestation of mass popular demand for more democratic governance in the Arab world. In addition, it has already brought back participative politics to these countries. One of the main features of modern Arab politics was the death of participative politics, as the political process was monopolized by corrupt elites. After the democracy wave, the people became a central actor in the political process. Younger generations are now engaged in politics. Even Salafi fundamentalists and Sufi spiritualists, who used to stay aloof from politics, are now well-entrenched in the political process through their own political parties.