07.06.2016 | BUILDING COMPONENTS AND BUILDINGS | Ausgabe 12/2016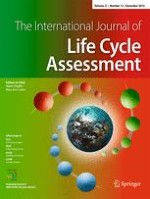 The assessment of the relevance of building components and life phases for the environmental profile of nearly zero-energy buildings: life cycle assessment of a multifamily building in Italy
Autoren:

Michele Paleari, Monica Lavagna, Andrea Campioli
Wichtige Hinweise
Responsible editor: Guillaume Habert
Abstract
Purpose
Since the construction sector is a considerable energy consumer and greenhouse gas (GHG) producer, the EU rules strive to build nearly zero-energy buildings, by reducing the operative energy and yearning for on-site energy production. This article underlines the necessity to go beyond the energy evaluations and move towards the environmental assessment in a life cycle perspective, by comparing the impacts due to building materials and energy production devices.
Methods
We compared the operational energy impacts and those of technologies and materials carrying out a life cycle assessment (LCA; ISO 14040, ISO 14044, EN 15643–2, EN 15978) on a nearly zero-energy building (ZEB), a residential complex with 61 apartments in four buildings, situated near Milan (Italy). We consider all life cycle phases, including production, transport, building site activities, use and maintenance; the materials inventory was filled out collecting data from invoices paid, building site reports, construction drawings and product data sheets. To make the assessment results comparable, we set a functional unit of 1 m2 of net floor area in 1 year (1 m2y), upon a lifespan of 100 years. The environmental data were acquired from Ecoinvent 2.2.
Results and discussion
The results highlight the important role of the pre-use and maintenance phases in building life so that in a nearly ZEB, the environmental impacts linked to the use are no longer the major proportion: the pre-use phase accounts for 56 %, while the operative energy is only 31 % of the total. For this reason, if the environmental assessment of the case study was shrunk to the operational consumption, only one third of the impacts would be considered. The consumption of non-renewable resources after 100 years are 193,950 GJ (133.5 kWh/m2y); the GHG emissions are 15,300 t (37.8 kg of CO2 eq/m2y). In the pre-use phase, structures have the major impacts (50 %) and the load of system components is unexpectedly high (12 %) due to the ambition of on-site energy production.
Conclusions
Paying attention to the operative energy consumption seems to address to only one third of the environmental impacts of buildings: the adoption of LCA as a tool to guide the design choices could help to identify the solution which ensures the lowest overall impact on the whole life, balancing the options of reducing the energy requirements, the on-site production from renewable sources and the limitation of the impacts due to building components (simpler and more durable).