2019 | OriginalPaper | Buchkapitel
The Athlete Tore a Muscle

: English Locative Subjects in the Extra Argument Construction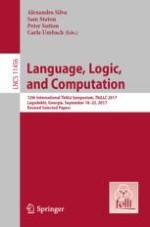 Erstes Kapitel lesen
Autor: Katherine Fraser
Verlag: Springer Berlin Heidelberg
Abstract
This paper investigates a special class of English change-of-state verbs exhibiting unexpected argument structure when the change-of-state is interpreted as unintentional and the subject is a
location
: e.g.,
the skier tore a muscle
or
the boat broke a rudder
. This construction provides evidence for a change-of-state construction beyond the uniform class of anti-causatives (reflexively marked or not) and their inchoative alternants. I argue that there is a necessary part-whole relation between the extra argument subject and the object. This paper describes the semantic constraints of the construction, both how the subject's unexpected semantic role restricts the interpretation, and how changing the part-whole relationship can have implications for the event structure. Finally, I argue that in this configuration, the extra argument subject is the Perspectival Center, like in the Genitive of Negation in Russian.