2008 | OriginalPaper | Buchkapitel
The Attenuation of Customs: A Game-Theoretic Perspective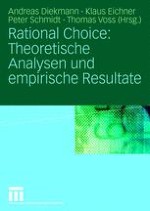 Erstes Kapitel lesen
Autor: Prof Dr. Werner Raub
Verlag: VS Verlag für Sozialwissenschaften
The analysis of social norms is a core topic of many fruitful theoretical as well as empirical contributions throughout Karl-Dieter Opp's distinguished career (see, for example, Opp 1983, 1990, 1997, 2001, 2002). To explain individual compliance with or deviance from norms, he consistently employs a "structural-individualistic approach" (a label introduced in
Opp 1978: 33-34
). Thus, compliance or noncompliance is explained as a result of incentive-guided behavior, with incentives depending on social-structural conditions. A strong feature of Opp's contributions in this field is that he typically comes up with testable hypotheses on how social-structural conditions affect compliance and noncompliance. A major advantage of such an approach is that hypotheses on effects of social-structural conditions do not have to be postulated as "axioms". Rather, they are deductive consequences of a micro-theory of behavior which has more "depth" (in Popper's sense).
1
Usually, Opp generates these hypotheses using a specific version of rational choice analysis, namely, maximization of expected utility in parametric decision situations (see
Elster 1986: 7
for the distinction between parametric and strategic decisions). In this contribution, we focus on an example from Opp's work, assuming that a (hopefully: constructive) critical discussion of some of the work of the author honored with a Festschrift is particularly appropriate in the case of a scholar like Karl-Dieter Opp who has contributed so much to a problem- and theory-guided empirical sociology that applies and implements the methodological rules of critical rationalism. We wish to show that the assumption of expected utility maximization in a parametric decision situation is problematic in analyses of social norms and individual compliance or noncompliance, that the assumption of strategic rationality in interdependent situations is theoretically more appealing, and that the assumption of strategic rationality allows to generate more systematically one of Opp's hypotheses on social-structural conditions for compliance and non-compliance.