01.06.2015 | Ausgabe 3/2015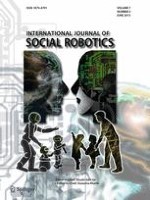 The Automation of Taste: A Theoretical Exploration of Mobile ICTs and Social Robots in the Context of Music Consumption
Zeitschrift:
Autoren:

Nello Barile, Satomi Sugiyama
Abstract
Today robotics and robotic functions are increasingly relevant to our everyday life. Although the notion of social robots tends to trigger the idea of autonomous machines such as humanoid and zoomorphic robots, it can be extended to include information and communication technologies (ICTs) Sugiyama and Vincent (Intervalla Platf Intellect Exch 1:1–6,
2013
). The present paper seeks to describe the implications of the deepest penetration of mobile ICTs in everyday life through the proliferation of technologies as well as the cogent effect of software and new applications controlled by algorithms. As smart phones and wearable devices continue to evolve and come closer to the human body, and also, transform from "a hard and utilitarian conception to a softer ideal based on the emotional value of new devices" Barile (Intervalla Platf Intellect Exch 1:101–115,
2013
, p. 102), this is an important and timely question to examine. In particular, this paper considers how mobile ICTs such as smart phones have the power to shape, and furthermore, to "automate" our emotions and taste by exploring the examples of widely-adopted music applications. By reviewing some of the classic theories of taste and the current technological environment of music consumption, it proposes the notion of "the automation of taste," which is a theoretical framework that can describe the new role of the technological mediation in the social definition of taste, considering the music recommendation systems as a sort of automatized cognitive environment. The paper argues that the automation of taste, facilitated by the smart phone and its applications and algorithms, leads to the human carrying some traces of robots.