2020 | OriginalPaper | Buchkapitel
10. The Average Consumer in a "Global" Perspective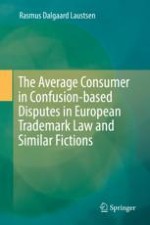 Erstes Kapitel lesen
Autor: Rasmus Dalgaard Laustsen
Abstract
Starting from
Sabel
, this chapter analyses how the Court of Justice developed "the global appreciation test" and as part of this applied the relevant public. This chapter concludes that the "trinity decisions,"
Sabel
,
Gut Springenheide
and
Lloyd
, are fundamentals of the average consumer, with
Sabel
and
Lloyd
manifesting the average consumer in European trademark law as part of the global appreciation test. Especially,
Sabel
and
Lloyd
form the foundation of the average consumer in General Court case law, although rarely explicitly.
Based on national case law after
Sabel
, this chapter concludes that there is harmonisation between the different national jurisdictions, but that the level of the harmonisation is murky. First, since the judicial application of the average consumer as part of the global appreciation test often occurs in the UK, but due to less explicit
ratios decidendi
occurs more rarely in the Nordic countries, particularly in Denmark. Second, the UK judiciaries, in contrast with the Nordic judiciaries, clearly apply the likelihood of confusion standard narrowly as set out by the Court of Justice.
As for the relevant public as such, the consistency between the EU and the national judiciaries is also murky. The UK judiciaries at one end clearly apply the EU relevant public, where at the other end, the Danish judiciaries rarely apply the relevant public. Sweden and Norway fall between the UK and Denmark.