2017 | OriginalPaper | Buchkapitel
6. The Beavers (Castoridae) of Yushe Basin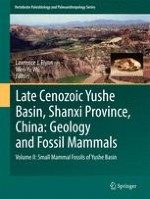 Erstes Kapitel lesen
Autoren: Xiaofeng Xu, Qiang Li, Lawrence J. Flynn
Verlag: Springer Netherlands
Abstract
We review the systematics and key features of the fossil beavers of Yushe Basin, which encompass much of the taxonomic diversity of Late Neogene Castoridae in China. Larger samples now available reduce some of the diversity that was apparent previously. For example, the North American genus
Eucastor
is no longer recognized in the Yushe Group; specimens previously considered to represent that genus are attributed to
Trogontherium
and
Sinocastor
. Modern fieldwork improves our understanding of provenance and allows discernment of biostratigraphic patterns. The Yushe Basin deposits are characterized by long lineages of the aquatic beavers
Dipoides
and
Sinocastor
, the latter being very close to living beavers and considered a subgenus of
Castor
herein. The older (late Miocene) levels of Yushe Basin contain a species of
Dipoides
that can be distinguished from the form that characterizes Pliocene age deposits.
Castor
(
Sinocastor
) shows a different pattern; there are perhaps two Miocene representatives, with one persisting through the Pliocene as a long lived lineage. The large castoroidine
Trogontherium
appears in the Pleistocene Haiyan Formation, late in the record of Yushe Basin.