Erschienen in: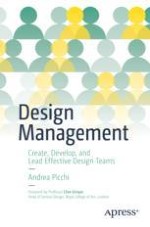 2022 | OriginalPaper | Buchkapitel
1. The Behavioral Elements of a Design Manager
Abstract
In 2009, Jack Zenger and Joe Folkman published a fascinating study of over 60,000 leaders ideated to capture what identifies a manager as "excellent." The findings showed that if a manager displays strong results-oriented skills, the chance of being seen as "excellent" is 14%. If a manager demonstrates strong social-oriented skills instead, the possibility of being seen as "excellent" is 12%. However, if a manager possesses strong results-oriented and social-oriented skills, the likelihood of being seen as "excellent" significantly increases to 72%. In this chapter, you will explore the behavioral elements of a design manager. You will learn how the neural networks that underlie the human element in design extend directly to the way we deploy leadership and management abilities. You will analyze the management and leadership preconceptions, the consequences of an imbalance between these two competencies, and how to assess your behavioral inclination. You will also examine the social needs of a team and the functional requirements of the working environment learning how to architect an optimal physical and digital configuration based on the needs of a specific group.