07.06.2016 | Profile | Ausgabe 4/2016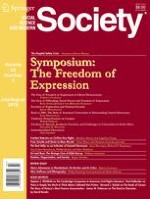 The Best-Seller as an Indicator of Societal Narcissism
Zeitschrift:
Autoren:

Janet Rovenpor, Richard E. Kopelman, Ann Cohen Brandwein, Phillip Quach, Marc Waldman
Abstract
Narcissism has become inculcated in many aspects of modern society. It can be found in the growing popularity of social media which enable users to post "selfies;" in the competitive race for fame, beauty and extravagant lifestyles; and in the public's fascination with power-hungry and greedy politicians and businesspeople featured on television and in the movies. Narcissism thrives when members of society admire, flatter and promote individuals with grandiose ideas and fantastical dreams. This paper extends the research of Mullins and Kopelman (The Public Opinion Quarterly, 48: 720–730,
1984
), which studied whether or not excessive concern with the self is on the rise, using bestsellers as an unobtrusive indicator of societal narcissism for the period, 1950–1979. Carrying this research forward for another thirty years, it was found over a 60-year period that the proportion of narcissistic-related bestsellers increased approximately 100 % for hardcovers (from 19 % to 35 %); and also over a 19-year period for Amazon sales (from 15 % to 35 %).