05.01.2016 | Ausgabe 4/2016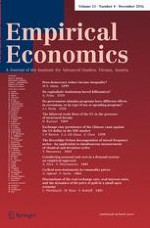 The bilateral trade flows of the EU in the presence of structural breaks
Zeitschrift:
Autor:

Natalya Ketenci
Abstract
This paper examines the bilateral trade dynamics of the EU with its major trade partners. The impacts of the real exchange rate and real income on the trade balance of the EU have been investigated in the presence of structural breaks. The empirical analysis includes ten major trade partners of the EU for 1980–2012, on a quarterly basis. The paper applies the Kejriwal and Perron (J Econom 146(1):59–73,
2008
, J Bus Econ Stat 28(4):503–522,
2010a
) structural break test to determine the presence of structural breaks in series and to estimate the parameters of the model. In order to test the cointegration relationships of series, three different cointegration techniques were applied to the data. First, the Gregory and Hansen (Oxf Bull Econ Stat 58(3):555–560,
1996
) cointegration test allows for one structural shift; then, for cases where two breaks were detected, the Hatemi-J (Empir Econ 35(3):497–505,
2008
) cointegration test was employed. Finally, for countries where more than two breaks are detected, the Maki (Econ Model 29(5):2011–2015,
2012
) cointegration test was applied, which allows for an unknown number of breaks. This paper presents evidence to show that income is a determining factor in the bilateral trade of Europe rather than a real exchange rate. However, allowance of structural breaks in cointegration tests reveals the absence of cointegrating relations in export demand equations of China and Norway and in import demand equations of Japan and Norway. The main finding of this paper is that important details of estimations can be missed when structural breaks are uncounted.