2014 | OriginalPaper | Buchkapitel
3. The Biograph Object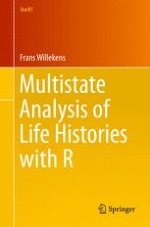 Erstes Kapitel lesen
Autor: Frans Willekens
Abstract
A
Biograph
object is a data frame of individual life history data. All information on the life history of a person is stored in a single record. That data format is known as wide format. The wide format differs from the long format, in which information on an episode or a transition is contained in a separate record. The structure of the data frame is described in Sect. 3.2 of this chapter. In a
Biograph
object, life history data are organised chronologically starting with the first reported state of the life course and the first transition. That data structure is consistent with the life course as a sequence of events and a sequence of states. Converting raw data from surveys, registers or follow-up studies into a
Biograph
object can be cumbersome. Most surveys are not organised from a life history perspective but from a life domain perspective. In Sect. 3.3, I describe how to convert the GLHS data into a
Biograph
object. The GLHS data structure is only one of the many possible data structures. It is not possible to develop a single conversion method for all known data structures. More on how to create a
Biograph
object and several examples may be found in Annex
A
. Data analysis may require some operations on the data before the analysis can start. In multistate modelling, that may involve the removal from the data of transitions to the same state (intrastate transitions). In the GLHS data, job changes are intrastate transitions. Other operations may change the observation window.
Biograph
includes functions to change the observation window. One function selects transitions between two time points (calendar time) or between two ages. Another function delineates an observation window by two events or by an event and the survey date. These operations change the structure of the data. Data restructuring is the subject of Sect. 3.4. In Sect. 3.5 of this chapter, I review formats of life history data and list functions that may be used to convert one data format into another. A description of life histories includes information on states occupied during the period of observation, on transitions between states and on the dates of transition. Different ways exist to report dates. Most people use calendar dates, but dates may also be measured as time elapsed since a reference date or a reference event. The Century Month Code (CMC), used in the GLHS, measures dates as the number of months elapsed since 1 January 1900. Other surveys may express dates differently. Section 3.5 covers different date formats and R functions, including
Biograph
functions, for converting one date format into another.