29.04.2017 | NOTE | Ausgabe 1/2018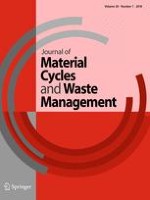 The broad spectrum of possibilities for spent coffee grounds valorisation
Zeitschrift:
Autoren:

Francesca Girotto, Alberto Pivato, Raffaello Cossu, George Elambo Nkeng, Maria Cristina Lavagnolo
Abstract
Coffee is the world's second most traded commodity and the most renowned drink worldwide. The increasing production of coffee has been accompanied by a rise in consumption, and consequent increment in the amount of spent coffee grounds (SCGs) remaining as a solid residue from coffee brewing. In view of the high content of biodegradable compounds, if disposed, SCGs will certainly need to be biostabilized, although they should preferably be exploited in a biorefinery chain scheme. A wide range of alternative options is available for use in recycling SCGs as a valuable resource: food additives, pharmaceutical components, bio-sorbents, bio-fuels, and bio-products. The option of producing biogas from SCGs was tested and lab-scale bio-methane potential experiments were performed using different substrate to inoculum (
S/I
) ratios, namely 0.5, 1, and 2. A
S/I
ratio of 2 was found to be the optimal condition, resulting in a methane yield of 0.36 m
3
CH
4
/kgVS.