2008 | OriginalPaper | Buchkapitel
34. The Business of Speech Technologies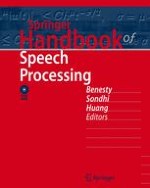 Erstes Kapitel lesen
Autoren: Jay Wilpon, Mazin E. Gilbert, Ph.D Jordan Cohen
Verlag: Springer Berlin Heidelberg
Abstract
With the fast pace of developments of communications networks and devices, immediate and easy access to information and services is now the expected norm. Several critical technologies have entered the marketplace as key enablers to help make this a reality. In particular, speech technologies, such as speech recognition and natural language understanding, have changed the landscape of how services are provided by businesses to consumers forever. In 30 short years, speech has progressed from an idea in research laboratories across the world, to a multibillion-dollar industry of software, hardware, service hosting, and professional services. Speech is now almost ubiquitous in cell phones. Yet, the industry is still very much in its infancy with its focus being on simple
low hanging fruit
applications of the technologies where the current state of technology actually fits a specific market need, such as voice enabling of call center services or voice dialing over a cell phone.
With broadband access to networks (and therefore data), anywhere, anytime, and using any device, almost a reality, speech technologies will continue to be essential for unlocking the potential that such access provides. However, to unlock this potential, advances in basic speech technologies beyond the current state of the art are essential. In this chapter, we review the
business
of speech technologies and its development since the 1980s. How did it start? What were the key inventions that got us where we are, and the services innovations that supported the industry over the past few decades? What are the future trends on how speech technologies will be used? And what are the key technical challenges researchers must address and resolve for the industry to move forward to meet this vision of the future? This chapter is by no means meant to be exhaustive, but it gives the reader an understanding of speech technologies, the speech business, and areas where continued technical invention and innovation will be needed before the ubiquitous use of speech technologies can be seen in the marketplace.