2017 | OriginalPaper | Buchkapitel
The Categorization of Document for Design Thinking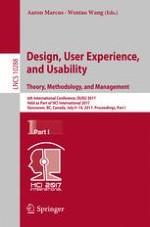 Erstes Kapitel lesen
Autoren: Tingyi S. Lin, Min-Zhe Yi
Abstract
Documents are closely related to our daily life, from morning papers to various corporate reports, and even to site maps issued by tourist attractions. Before the advent of the Internet in the 1970s, documents were certain physical objects on which significant text and graphic symbols were drawn, written, printed or shown in a way to be visible. With the emergence of the Internet, the presentation of documents has become diversified. Traditional physical documents are gradually replaced by digital documents and those changes have altered how we communicate to each other. Although documents are so important, many documents attract less attention from users due to the lackluster content and to many perplexing problems in information structure, graphic symbols, layout. Document design has accumulated considerable practical experience and design methods nowadays. The design category has also been widening. Digitization can bring freer presentation and wider communication to documents; paper documents also have advantages in reading habits, execution efficiency and convenience. No matter how the information is presented, being easy to understand, being easy to use and creating a pleasant reading atmosphere are still the common goals of all the document designs. On this basis, it is essential to pay great attention on the various of document for different requirement.
The accuracy and appropriateness of the collected data will affect not only the designers' judgment on users' needs but also the result of design thinking. Design thinking is the methodology of the whole idea and design. It means seeking different possible solutions to different design themes and thinking differently. Design thinking in document design provides the possibilities of document innovation and reconstruction for designers. In the process of design thinking, it is necessary to explore the core needs of users from a large number of research data. Classifying existing documents can help designers clearly know their design objects and better target them during the data collection to obtain valuable design suggestions. In order to categorize document for better design and further research, this study aims to (1) extensively collect existing document samples and classify them, and (2) analyze the spatial coordinate distribution and illustrate design features of these documents.
There were 153 document samples collected and screened. The original samples were filtered by excluding with highly similar content and forms. It turned out that 54 representative samples were selected and were analyzed with the KJ Method. Five document types were concluded, including (1) Indicative document: introduce the use of a product or guide users to complete a task. (2) Retrieving document: users seek the information they need from a complex set of information according to visual cues in the document. (3) Dialogical document: there are repeated interactions between users and documents. The document here can be seen as an intermediary; through the document, users talk with the man or the computer at the other end. (4) Feedback Document: Users provide a direct and prompt one-way information on the feedback sheet. (5) Expository document: The document only informs users of the relevant information, without any further interactions with users. The results show that clustering existed in the spatial distribution of these documents in the process of chart making, with which the pattern of readability and interactivity of those sample documents are shown on the distributed plot. The next phase of this project is to further investigate design rules of thumb in document categories. Further research will be continued to perceive useful instruments for executing design practices. Design cases and practical techniques will be extensively inquired for design consultation together with the hidden relationships discovered from this project.