01.06.2015 | Ausgabe 1/2015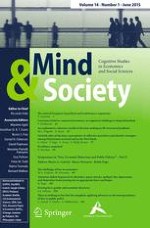 The challenge of fear to economics
Zeitschrift:
Autoren:

Mario A. Cedrini, Marco Novarese
Wichtige Hinweise
The human soul has need of security and also of risk. The fear of violence or of hunger or of any other extreme evil is a sickness of the soul. The boredom produced by a complete absence of risk is also a sickness of the soul.
Simone Weil (
1962
),
Draft for a Statement of Human Obligation.
Abstract
Until the advent of behavioral and neuroeconomics, economics has generally tended to undervalue, on average, the importance of fear. Fear has traditionally been regarded as pertaining to an alternative domain with respect to rationality: it has thus been considered as triggering mechanism of anomalous, even irrational behavior. Conversely, the article speculates on the complexity of the concept of fear and of the social effects it is thought to produce. While discussing the eventual desirability of a freed-from-fear world and Western obsession with risk management and safety from the economic problem and other pressures, the paper provides a general introduction to the relevance of the relatively unexplored issue of fear to economics as discipline as well as to applied economics in public policy.