06.04.2017 | Ausgabe 3/2018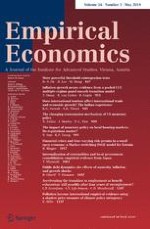 The changing transmission mechanism of US monetary policy
Zeitschrift:
Autoren:

Norhana Endut, James Morley, Pao-Lin Tien
Wichtige Hinweise
P. Tien: The views expressed in this paper are the authors' and should not be interpreted as those of Bank Negara Malaysia, the Weidenbaum Center, the US Bureau of Economic Analysis, or the US Department of Commerce.
The authors would like to thank Steve Fazzari, Tom King, Jeremy Piger, and participants at conferences and seminars where we presented this paper for helpful comments and discussions. All remaining errors are our own. The authors gratefully acknowledge the support of the Weidenbaum Center on the Economy, Government, and Public Policy at Washington University in St. Louis, as well as the Economics Department at Wesleyan University.
Abstract
We examine the relative importance of the interest rate, exchange rate, and bank-lending channels for the transmission mechanism of monetary policy in the United States over the past fifty years. Our analysis is based on a structural vector autoregressive model that includes bank loans and uses sign restrictions to identify monetary policy shocks. Given these identified policy shocks, we quantify the relative importance of different transmission channels via counterfactual analysis. Our results suggest a nontrivial role for the bank-lending channel at the aggregate level, but its importance has been greatly diminished since the early 1980s. Despite the timing, we find no support for a link between this change in the transmission mechanism and the concurrent reduction in output volatility associated with the Great Moderation. There is, however, some evidence of a link to the reduction in inflation volatility occurring at the same time.