01.02.2020 | ORIGINAL PAPER | Ausgabe 2/2020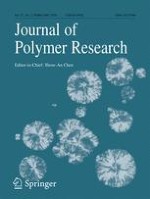 The compatibilization of PLA-g-TPU graft copolymer on polylactide/thermoplastic polyurethane blends
Zeitschrift:
Autoren:

Xian-Zhong Mo, Fu-Xiang Wei, Deng-Feng Tan, Jin-Ying Pang, Chun-Bo Lan
Wichtige Hinweise
Publisher's note
Springer Nature remains neutral with regard to jurisdictional claims in published maps and institutional affiliations.
Abstract
The insufficient compatibility between poly(lactic acid) (PLA) and thermoplastic polyurethane (TPU) phase leads to some disadvantages such as extrudate swell and poor mechanical properties of PLA/TPU blends. Therefore, to improve the compatibility is an essential work of modifying the blends. In this study, PLA, dicumyl peroxide (DCP), glycidyl methacrylate (GMA) and TPU were added to torque rheometer in sequence to synthesize PLA-g-TPU graft copolymer, and the synthetic products were characterized by nuclear magnetic resonance (NMR) spectroscopy and Fourier transform infrared (FTIR) spectra. Subsequently, binary blends (PLA /TPU blends) and ternary blends (PLA/TPU/PLA-g-TPU blends) were prepared via melt blending in twin screw extruder. The compatibility, the extrusion behavior, thermal stabilities and mechanical properties of binary blends and ternary blends were studied, respectively. The results showed that the graft copolymer played a crucial role in improving the compatibility of PLA/TPU blends. In comparison to binary blends, the ternary blends exhibited better extrusion behavior and higher thermal stabilities. In addition, the notched impact strength and elongation at break of blends improved under the effect of the graft copolymer. Interestingly, the tensile strength also strengthened with incorporation of the graft copolymer, which indicated that the interfacial adhesion between PLA phase and TPU phase had been enhanced.