17.03.2016 | Ausgabe 2/2017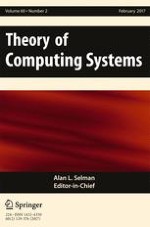 The Complexity of Finding Effectors
Zeitschrift:
Autoren:

Laurent Bulteau, Stefan Fafianie, Vincent Froese, Rolf Niedermeier, Nimrod Talmon
Wichtige Hinweise
An extended abstract appeared in
Proceedings of the 12th Annual Conference on Theory and Applications of Models of Computation (TAMC '15)
, Volume 9076 of LNCS, pages 224–235, Springer, 2015. This article provides all proofs in full detail.
Laurent Bulteau was supported by the Alexander von Humboldt Foundation, Bonn, Germany. Main work done while affiliated with TU Berlin.
Stefan Fafianie was supported by the DFG Emmy Noether-program (KR 4286/1). Main work done while affiliated with TU Berlin.
Vincent Froese was supported by the DFG, project DAMM (NI 369/13).
Nimrod Talmon was supported by DFG Research Training Group "Methods for Discrete Structures" (GRK 1408). Main work done while affiliated with TU Berlin.
Abstract
The NP-hard
Effectors
problem on directed graphs is motivated by applications in network mining, particularly concerning the analysis of probabilistic information-propagation processes in social networks. In the corresponding model the arcs carry probabilities and there is a probabilistic diffusion process activating nodes by neighboring activated nodes with probabilities as specified by the arcs. The point is to explain a given network activation state as well as possible by using a minimum number of "effector nodes"; these are selected before the activation process starts. We correct, complement, and extend previous work from the data mining community by a more thorough computational complexity analysis of
Effectors
, identifying both tractable and intractable cases. To this end, we also exploit a parameterization measuring the "degree of randomness" (the number of 'really' probabilistic arcs) which might prove useful for analyzing other probabilistic network diffusion problems as well.