2020 | OriginalPaper | Buchkapitel
The Complexity of the Label-Splitting-Problem for Flip-Flop-Nets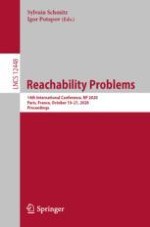 Erstes Kapitel lesen
Autor: Ronny Tredup
Abstract
Let
\(\tau \)
be a type of nets.
Synthesis
consists in deciding whether a given labelled transition system (TS)
A
can be implemented by a net
N
of type
\(\tau \)
. In case of a negative decision, it may be possible to convert
A
into an implementable TS
\(A'\)
by relabeling edges that previously had the same label differently:
Label-splitting
is the problem to decide for a TS
A
and a natural number
\(\kappa \)
whether there is an implementable TS
B
with at most
\(\kappa \)
labels, which is derived from
A
by splitting labels. In this paper, we show that label-splitting is NP-complete if
\(\tau \)
corresponds to the type of flip-flop nets or some flip-flop net derivatives.