2019 | OriginalPaper | Buchkapitel
3. The Consumer at the Heart of the Energy Markets?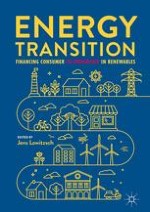 Erstes Kapitel lesen
Autor: Jens Lowitzsch
Abstract
In contemplating the launch and the implementation of an Energy Union, the European Commission envisioned a regulatory framework "with citizens at its core, where citizens take ownership of the energy transition, benefit from new technologies to reduce their bills, participate actively in the market, and where vulnerable consumers are protected". Regarding the question of how consumers benefit from these objectives, the Commission Communication "Delivering a New Deal for Energy Consumers" (COM(2015) 339 final) identified a number of obstacles and highlighted areas for improvement with respect to the three mentioned pillars of consumer policy, that is, consumer empowerment, smart homes and networks, as well as data management and protection. The empowerment of consumers in particular poses three challenges, namely, (1) how to motivate them to increase demand-side flexibility and (2) improve energy efficiency while (3) reducing energy poverty—a structural challenge in the energy transition not limited to the European Union. Carefully calibrated policy action is required if the "consumer at the heart of the energy markets" is not to remain an empty slogan. As this chapter will argue, consumer ownership can contribute to meet each of the mentioned challenges.