16.07.2018 | Ausgabe 10/2018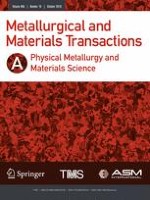 The Contribution of Dislocation Density and Velocity to the Strain Rate and Size Effect Using Transient Indentation Methods and Activation Volume Analysis
Zeitschrift:
Autoren:

D. E. Stegall, A. A. Elmustafa
Wichtige Hinweise
Manuscript submitted February 27, 2018.
Abstract
Constant load indentation creep and load relaxation tests were performed on several FCC Al, Ag, and Ni metals that exhibit indentation size effect (ISE) to examine the coupled relationship between the activation volume
V
* at specific loads, the dislocation density
ρ
, and the dislocation velocity (
v
) from kinetics-based perspective. The influence of the ISE on the dislocation velocity and the activation volume is thoroughly examined using the two independent indentation creep and load relaxation experiments. This study is carried out based on the general experimental and theoretical hypothesis that the ISE is driven by a dislocation mechanism, specifically the increase in the geometrically necessary dislocation density at shallow depth of indentation due to the presence of a large strain gradient. Geometrically necessary dislocations dominate the material's propensity to work harden when their density exceeds the density of statistically stored dislocations and are primarily considered responsible for the size effects observed in indentation. Based on the preestablished bilinear behavior and the decrease in the activation volume with hardening due to dislocation–dislocation interaction in indentation creep experiments by Elmustafa and Stone, 2003, we demonstrate that the dislocation velocity exhibits a bilinear behavior when plotted
vs
hardness using the Orowan's relation. Ag and Ni distinctively depict a bilinear behavior in the dislocation velocity with hardness, whereas Al exhibited a rather linear behavior. This can be explained by the fact that aluminum's work-hardening rate is higher due to the increase in the rate and intensity of cross-slip and dislocation climbing.