2016 | OriginalPaper | Buchkapitel
The Contribution of Measurement in a Cross-Device, Data-Driven, Real-Time Marketing World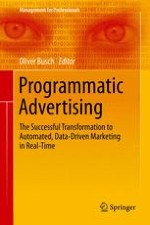 Erstes Kapitel lesen
Autoren: Niko Marcel Waesche, Tilman Rotberg, Florian Renz
Abstract
Considering the advanced algorithms of programmatic advertising, its great efficiencies and its advanced capabilities to address consumers at the point of decision during their purchase journey, one could argue that third party advertising effectiveness measurement is not needed any more. Some believe that programmatic is a magic solution, that finally liberates the advertising industry from cumbersome measurement exercises.
Programmatic advertising is not the magic solution that solves all problems. The algorithms of programmatic advertising do not make measurement approaches redundant. On the contrary, machine algorithms and panel-based data complement each other, and validated measurement techniques are needed in order to improve the performance of campaigns, which are using programmatic advertising. The good news: We do not need to reinvent the wheel and create all-new measurement tools just for programmatic; instead we can repurpose and slightly modify them. Measurement offers powerful tools to address some of the known concerns with programmatic advertising and contributes to its acceptance and maturity in the industry and beyond.
It is clear that programmatic advertising represents new, unparalleled opportunities for advertisers and forward-thinking media groups, but it is also a black box, characterized by complexity, a lack of transparency and data challenges. There also is a lingering consumer trust issue linked to the use of personal data by programmatic engines which premium advertisers cannot ignore. There is an urgency to address these challenges, since the development of programmatic advertising is not stopping; it is spreading from display into new areas, into video and mobile advertising and beyond.
In this chapter, the authors briefly discuss the success of programmatic and its spread to new areas, highlighting the key challenges of programmatic and how they relate to measurement. In the third part of the chapter, the authors illustrate how validated (panel-based) measurement techniques are essential in order to address some of these challenges and in order to improve the performance of programmatically driven campaigns. Finally, the chapter ends with an outlook describing a world in which consumers themselves control and manage some of the data that is used by programmatic engines. In the opinions of the authors, this development will contribute to an overall more mature programmatic advertising ecosystem.