2013 | OriginalPaper | Buchkapitel
14. The Contributions of Climate Change Mitigating Policies to Poverty Reduction in the Sahel Region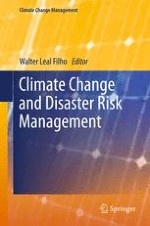 Erstes Kapitel lesen
Autoren: Labintan Adeniyi Constant, Mignouna Babatima Djana, Ituma Chibueze Calistus
Verlag: Springer Berlin Heidelberg
Abstract
Although there is a relationship between climate change and poverty reduction, some countries in the Sahel region of Africa are yet to incorporate a climate change risk management strategy into their poverty reduction programme. The aim of this research is therefore to evaluate the subjective and quantitative analysis of climate change risk management strategies in all the nine countries that constitute the Sahel region. Both a qualitative and a quantitative approach were used in the investigation. The qualitative approach was used to make a subjective analysis of the climate change mitigating framework with regard to poverty reduction issues at country level. It was based on a scoring system methodology by assessing the following criteria:
The consideration of climate change scenarios and the vulnerabilities of the countries;

The analysis of poverty-climate links;

The climate change institutional framework of each country.
The quantitative approach was based on Data Envelopment Analysis (DEA). This was done by applying DEA Solver to evaluate the efficiency of climate change mitigating frameworks and their impact on poverty reduction. The results of the investigation revealed that none of the Sahel countries, excluding Burkina Faso, included climate change risk management in their Poverty Reduction Strategy and Policies (PRSP). Burkina Faso's National Adaptation Policies Action (NAPA) performs well. Burkina Faso is considered a model country which has included climate change policies in its PRSP. However, as with most countries in the region, the Burkina Faso climate change risk management policy is not comprehensive. This is a result of inadequate climate change risk management projects, exclusion of real needs and other exogenous parameters. However, in Senegal, more efforts are required in response to climate change risk management in order to reduce poverty. This is paramount for the following reasons: the inclusion of climate change risk management into PRSP important in increasing its understanding several challenges require to be addressed for good implementation and to ensure a good monitoring system. Stakeholders in the sector will be more effective and efficient in developing action plans for climate change management strategies and poverty reduction programmes.