01.06.2012 | Ausgabe 6/2012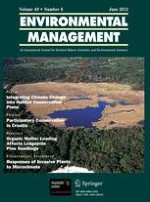 The Control of an Invasive Bivalve,
Corbicula fluminea

, Using Gas Impermeable Benthic Barriers in a Large Natural Lake
Zeitschrift:
Autoren:

Marion E. Wittmann, Sudeep Chandra, John E. Reuter, S. Geoffrey Schladow, Brant C. Allen, Katie J. Webb
Abstract
Anoxia can restrict species establishment in aquatic systems and the artificial promotion of these conditions can provide an effective control strategy for invasive molluscs. Low abundances (2–20 m
−2
) of the nonnative bivalve, Asian clam (
Corbicula fluminea
), were first recorded in Lake Tahoe, CA–NV in 2002 and by 2010 nuisance-level population densities (>10,000 m
−2
) were observed. A non-chemical control method using gas impermeable benthic barriers to reduce dissolved oxygen (DO) concentrations available to
C. fluminea
was tested in this ultra-oligotrophic natural lake. In 2009, the impact of ethylene propylene diene monomer (EPDM) sheets (9 m
2
,
n
= 6) on
C. fluminea
beds was tested on 1–7 day intervals over a 56 day period (August–September). At an average water temperature of 18 °C, DO concentrations under these small barriers were reduced to zero after 72 h resulting in 100 %
C. fluminea
mortality after 28 days. In 2010, a large EPDM barrier (1,950 m
2
) was applied to
C. fluminea
populations for 120 days (July–November).
C. fluminea
abundances were reduced over 98 % after barrier removal, and remained significantly reduced (>90 %) 1 year later. Non-target benthic macroinvertebrate abundances were also reduced, with variable taxon-specific recolonization rates. High
C. fluminea
abundance under anoxic conditions increased the release of ammonium and soluble reactive phosphorus from the sediment substrate; but levels of unionized ammonia were low at 0.004–0.005 mg L
−1
. Prolonged exposure to anoxia using benthic barriers can provide an effective short term control strategy for
C. fluminea.