2000 | OriginalPaper | Buchkapitel
The Control of Mergers and Joint Ventures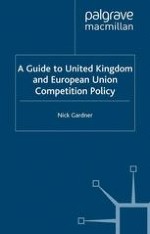 Erstes Kapitel lesen
Autor: Nick Gardner
Verlag: Palgrave Macmillan UK
The operation of merger policy depends less upon the enabling legislation and its investigatory procedures than upon the presumption which is adopted concerning the general effect of mergers on the public interest. A balance has to be struck between expected losses of allocative efficiency resulting from the reduction of competition and expected gains in productive efficiency;
1
and different authorities may adopt different presumptions in that respect. In an early case,
2
the European Court of Justice ruled that an increase in the market share of a dominant undertaking can on its own constitute a breach of the Treaty of Rome. European Union merger regulation is not now confined to dominant undertakings, but it does not seek to prevent mergers unless they impede effective competition. The regulation stipulates that account is to be taken of technical and economic progress which is to the consumers' advantage, but only if no obstacle to competition is created. In practice, however, efficiency gains are often balanced against losses of competition. The Commission is, moreover, required
3
to place its appraisal within the general framework of the fundamental objectives of Article 2 of the Treaty of Rome, which included the following:
to promote … a harmonious and balanced development of economic activities, sustainable and non-inflationary growth respecting the environment, a high degree of convergence of economic employment, a high level of employment and of social protection, the raising of the standard of living and quality of life, and economic and social cohesion among member states.