2018 | OriginalPaper | Buchkapitel
The Conventional Implicature of
Dōu

b

(Dōu

2

,Dōu

3

)

: On Semantics of

Dōu

b from the Perspective of Discourse Analysis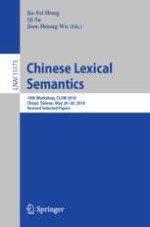 Erstes Kapitel lesen
Autor: Hua Zhong
Abstract
In existing studies
dōu
b
(dōu
2
,
dōu
3
)
is a polarity-marker and a universal quantifier which sometimes expresses having done or been and has an emphatic function. This paper argues that marking-a-polarity, universal quantification and expressing having done or been are all conversational implicatures or context meanings of
dōu
b
sentences. And as a kind of generalized conversational implicature the emphatic function which belongs to
dōu
b
construction is drawing from a plausible inference. But it is not the conventional meaning of
dōu
b
. The conventional implicature of
dōu
b
indicates that the speaker has made a judgment on the state of affairs described by a proposition, and he/she believes that the possibility of the state of affairs is inferior-to-expectation (or normal). As a kind of rule meaning it is a non-truth conditional, procedural and pragmatic meaning. But it is different from an ordinary rule meaning that is an explicit, literal, objective and truth conditional meaning because it is subjective, non-truth conditional and implicit. And it is different from a conversational implicature because it is non-cancellable.