2018 | OriginalPaper | Buchkapitel
13. The Creation and Disruption of Innovation? Key Developments in Innovation as Concept, Theory, Research and Practice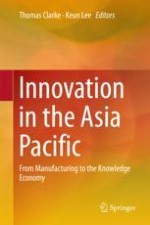 Erstes Kapitel lesen
Autor: Michael Lester
Verlag: Springer Singapore
Jetzt einloggen
Abstract
The development of innovation across a very wide canvas is portrayed in the final chapter of the book by Michael Lester. The disruptive impact of new digital networked technologies upon the transformation of enterprises and industries extends to a disruption of the processes of innovation itself, encompassing the nature of innovation concepts, theory, research and practice. This suggests we need to rethink our ideas on innovation as we enter what has been described as the second machine-age of big data, super computers and broadband communication (Brynjolfsson and McAfee, The second machine age: work, progress, and prosperity in a time of brilliant technologies. Norton, New York,
2014
). The chapter highlights the disruption of conventional wisdom on innovation processes examining the new wave of entrepreneurial start-ups in the digital age. Unprecedented opportunities exist it is claimed in the rapid expansion of creative innovation and entrepreneurship with a social as well as economic purpose. New product technology platforms and open source software have reduced the technological barriers and risks to product innovation. The evolution of big data combined and powerful data algorithms creates the capacity to discern patterns in complexity integral to the creation of new knowledge. Big data tools are being applied across all scientific disciplines and industries and businesses. The institutional foundations of this innovation and growth are examined and the importance of inclusive and open institutions stressed for accelerating innovation, conceiving of innovation as the knowledge-based outcome of complex linkages and interactions between actors and institutions including universities, businesses and government (Freeman, J Econ 19:5–24,
1995
). This suggests a systems approach to the wide institutional relationships including education, taxation, law and other institutions including governments in shaping the markets of the future.