20.06.2020 | Ausgabe 9/2020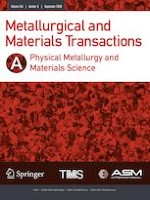 The Critical Chloride Concentration of Austenitic and Duplex Stainless Steel Reinforcing Bars
Zeitschrift:
Autoren:

I. G. Ogunsanya, C. M. Hansson
Wichtige Hinweise
Manuscript submitted September 25, 2019.
Publisher's Note
Springer Nature remains neutral with regard to jurisdictional claims in published maps and institutional affiliations.
Abstract
The critical chloride concentrations for initiation of corrosion in reinforcing bar (rebar) are essential input parameters for service life predictions of reinforced concrete structures. For highway infrastructure, the specified service life is currently 75 to 120 years depending on the jurisdiction. Different techniques have been employed to determine these critical concentrations because of the many factors influencing the corrosion initiation. The current standard methods,
e.g.
, ASTM G109, require weeks or months of testing and are often not logistically feasible for testing large numbers of specimens in different conditions in a reasonable time frame. The authors have proposed a potentiodynamic polarization technique for a rapid throughput assessment of the critical chloride concentration of different grades of stainless steel reinforcing bars in synthetic concrete pore solution corresponding to a specific concrete mixture design. This method was successfully employed in identifying the influence of alloying composition (Ni, Mo, Mn), testing solution, and rebar surface finish on their critical chloride concentration. The critical concentrations of Ni-containing stainless steel grades were higher than the Mn-containing grade by values greater than 13.5 pct by mass of solution. Mo only improved the pitting resistance and resulting critical chloride concentrations of the duplex grades, by 17 pct by mass of solution, but not the austenitic grades. The critical chloride concentrations of tested bars with processing flaw were lower by 13 pct by mass of solution. Sulfate addition and increment, as measured in pore solution expressed from cement pastes, in synthetic pore solution were found to increase the threshold values of these rebar grades by 4 to 8 pct by mass of solution.