2017 | OriginalPaper | Buchkapitel
1. The Deadlock of the Thermo-Industrial Civilization: The (Impossible?) Energy Transition in the Anthropocene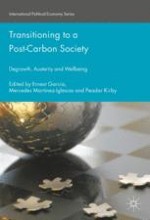 Autor: Alain Gras
Verlag: Palgrave Macmillan UK
Jetzt einloggen
Abstract
This chapter outlines three theses in the social anthropology of technology which converge around transition and degrowth: the first one concerns the evolutionism behind the history of technology. According to this history, there is only one relationship with our environment (
umwelt
), that of
efficacy
with regard to an objectified nature. From this perspective, the destiny of technology is
predation
, though in other worldviews technology is also
mediation
, just like art.
In the second one, I introduce the concept of "thermo-industrial" society and I query the concept of the Anthropocene, locked into a positivist worldview. It is not Watt's engine that marks its beginning but a new technical system that is also a way of thinking about the world. The train, together with the railway and telegraph network, takes us to a thermo-industrial society, one based on the
power of fire
in a
web
infrastructure. A new imaginary of time and space is developed throughout the twentieth century in the technical macro-system, one of the forms of the energy mega-machine.
In the third one, I argue that the current transition is just a third phase following that of coal and that of oil during World War II, as it is mainly based on electricity—second degree energy—which always relies on other heat-based power sources. Electricity does not change anything in the imaginary of predation and it enslaves us further in this view of the world and the mega-machine. The technology that supports electricity, that of ICTs, [information and communication technologies], smart grids, cyber-culture, etc., extends the same socio-historical trajectory of growth… It is therefore a very dangerous "phenomenon", as it appears to be the way to let us believe in the absence of limits to prevent us from choosing our own pathways of degrowth and "limited" comfort based on a new understanding of nature and a pacified relationship with it.