2018 | OriginalPaper | Buchkapitel
1. The Definitions, Types and Functions of Discipline as Well as Factors Influencing Discipline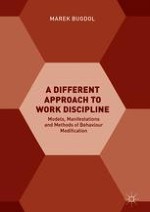 Autor: Marek Bugdol
Abstract
This chapter entitled "The definitions, types and functions of discipline as well as factors influencing discipline" discusses the main definitions of discipline, its functions and factors important for maintaining discipline. The chapter presents useful information concerning the following:
the types of discipline (e.g. budgetary, conscious, unconscious, procedural, ethical, unethical, motivational, based on trust or intimidation, related to non-compliance with quality standards),

opinions on disciplining employees expressed by the forerunners of management sciences.
The author indicates relations occurring between discipline and the freedom of an individual employee in an organisation and that this discipline results from relations among employees as well as their occupational functions, roles and positions.