2012 | OriginalPaper | Buchkapitel
18. The Demand Readiness Level Scale as New Proposed Tool to Hybridise Market Pull with Technology Push Approaches in Technology Transfer Practices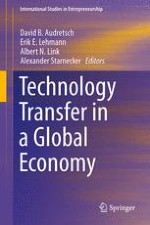 Erstes Kapitel lesen
Autor: Florin Paun
Verlag: Springer US
Abstract
The technology transfer process between a public laboratory and a company has been the subject of many publications and has been widely discussed in economic theory. This chapter highlights several newly identified asymmetries occurring between the different agents taking part in the process.
The theoretical corpus of the article draws upon empirical sources, being based on the recent experience of one of the most dynamic Technology Transfer Offices (TTOs) in France: the case of ONERA (the National Office for Aerospace Studies and Research) and the SMEs.
In such a cooperative innovation process, we will show that certain collaborative tools or practices emerge, aimed at reducing information asymmetries or acting as compensation mechanisms for other types of asymmetries between the partners at a microeconomic level, especially in France where there is a gap between the public R&D laboratories and the SMEs in terms of Technology Readiness Levels (TRLs).
We finally showcase a new tool, the Demand Readiness Level scale (DRL), which combined with the TRL is providing a powerful tool, the Innovation (process) Readiness Diagram (IRD), dedicated to better manage the Technology Transfer relationship.