01.03.2015 | Ausgabe 3/2015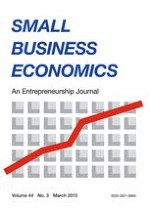 The determinants of R&D persistence in SMEs
Zeitschrift:
Autoren:

Juan A. Máñez, María E. Rochina-Barrachina, Amparo Sanchis-Llopis, Juan A. Sanchis-Llopis
Abstract
This paper analyses the sources of persistence in conducting R&D activities by SMEs. The data used are a panel of Spanish manufacturing firms drawn from the
Survey of Business Strategies
, for the period 1990–2011. We estimate discrete time proportional hazard models accounting for firm observed and unobserved heterogeneity. Our results are consistent with a process of learning associated with the accumulation of R&D capital and with a self-sustained effect of engagement in R&D activities. In addition, we obtain that persistence in R&D in SMEs is also related to the success-breeds-success, sunk costs and demand-pull hypotheses. Finally, our findings also uncover some interesting differences in the underlying drivers of R&D persistence of SMEs as compared to their larger counterparts.