2017 | OriginalPaper | Buchkapitel
7. The Development Cooperation and Humanitarian Aid Policy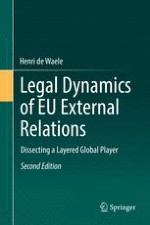 Erstes Kapitel lesen
Autor: Henri de Waele
Verlag: Springer Berlin Heidelberg
Jetzt einloggen
Abstract
The EU regime for supporting third countries in need is three-pronged: separate rules have been put in place for development cooperation sensu stricto; for economic, financial and technical cooperation; and for the provision of humanitarian aid. The second of these, the batch of provisions on economic, financial and technical cooperation with third countries, is somewhat uncomfortably sandwiched between the other two. Moreover, at first glance, the main distinction between the three branches may not be readily apparent. All this warrants a more extensive elaboration in this chapter. For a good understanding, after a short introduction (Sect. 7.1), we shall first look into some general aspects, investigating the origin and evolution, the legal foundations and the institutional framework of the policies. That exposé will also take stock of some of their most tangible products (Sect.
7.2
). We then move on to discuss the questions and challenges currently facing the EU's development cooperation and humanitarian aid policy, especially with regard to a perceived lack of efficacy (Sect.
7.3
). That discussion incorporates perspectives from the Union institutions, Member States and third countries in equal measure.