2021 | OriginalPaper | Buchkapitel
4. The Development of Risk Management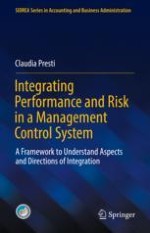 Erstes Kapitel lesen
Autor: Claudia Presti
Abstract
In order to understand how the current evolutions of the competitive environment affect the management control system, this chapter outlines the evolution of another system that grows within organizations and that has a fundamental connection with the management control system: the risk management system.
Over time, risk management ceased to be just a peripheral technical tool mostly related to insurance and credit management and started to represent an integrated process that involves the entire company. In this new shape, risk management started to have a close, though not yet a well-defined, relationship with the management control system, and particularly with the performance management subsystem. Therefore, it becomes of interest to analyze how risk management has evolved.
Undeniably, the concepts of risk and performance are closely related, as there is always a risk when one tries to achieve a performance, and a performance should be evaluated considering the amount of risk taken [D'Onza (Il sistema di controllo interno nella prospettiva del risk management. Giuffrè editore, 2008)].
This chapter outlines the evolution of the risk management discipline and the subsequent issues, connections, and overlaps with other business systems.