01.04.2014 | Symposium: International Workshop on Materials Design Process: Thermodynamics, Kinetics and Microstructure Control | Ausgabe 4/2014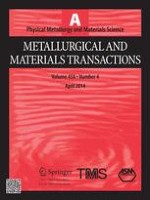 The Development of the Low-Cost Titanium Alloy Containing Cr and Mn Alloying Elements
Zeitschrift:
Autoren:

Kailiang Zhu, Na Gui, Tao Jiang, Ming Zhu, Xionggang Lu, Jieyu Zhang, Chonghe Li
Wichtige Hinweise
Manuscript submitted May 20, 2013.
Abstract
The
α
+
β
-type Ti-4.5Al-6.9Cr-2.3Mn alloy has been theoretically designed on the basis of assessment of the Ti-Al-Cr-Mn thermodynamic system and the relationship between the molybdenum equivalent and mechanical properties of titanium alloys. The alloy is successfully prepared by the split water-cooled copper crucible, and its microstructures and mechanical properties at room temperature are investigated using the OM, SEM, and the universal testing machine. The results show that the Ti-4.5Al-6.9Cr-2.3Mn alloy is an
α
+
β
-type alloy which is consistent with the expectation, and its fracture strength, yield strength, and elongation reach 1191.3, 928.4 MPa, and 10.7 pct, respectively. Although there is no strong segregation of alloying elements under the condition of as-cast, the segregation of Cr and Mn is obvious at the grain boundary after thermomechanical treatment.