01.06.2015 | Ausgabe 2/2015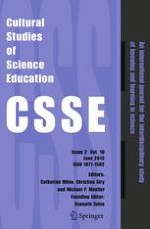 The discourse of design-based science classroom activities
Zeitschrift:
Autoren:

Flávio S. Azevedo, Peggy L. Martalock, Tugba Keser
Abstract
This paper is an initial contribution to a general theory in which science classroom
activity types
and epistemological
discourse practices
are systematically linked. The idea is that activities and discourse are reflexively related, so that different types of science classroom activities (e.g., scientific argumentation, modeling, and design) recruit characteristically distinct forms of participants' (students and teacher) discourse. Such a general theory would eventually map out the full spectrum of discourse practices (and their patterns of manifestation) across various kinds of science classroom activities, and reveal new relationships between forms of both discourse and activities. Because this defines a complex and long-term project, here our aim is simply to delineate this larger theoretical program and to illustrate it with a detailed case study—namely, that of mapping out and characterizing the discourse practices of
design
-
based
science classroom activities. To do so, we draw on data from an activity that is prototypically design-based—i.e., one in which students iteratively design and refine an artifact (in this case, pictorial representations of moving objects)—and examine the structure and dynamics of the whole-class discourse practices that emerge around these representational forms. We then compare and contrast these discourse practices to those of an activity that is prototypical of
scientific argumentation
(taken from the literature)—i.e., one in which students argue between competing theories and explanations of a phenomenon—and begin to illustrate the kinds of insights our theoretical program might afford.