26.10.2019 | Original Paper: Sol–gel and hybrid materials with surface modification for applications | Ausgabe 1/2020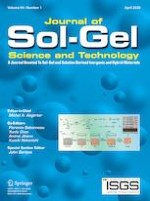 The dispersion and tribological performances of magnesium silicate hydroxide nanoparticles enhanced by Span60 oleogel
Zeitschrift:
Autoren:

Kai Gao, Qiuying Chang, Bin Wang
Wichtige Hinweise
Publisher's note
Springer Nature remains neutral with regard to jurisdictional claims in published maps and institutional affiliations.
Abstract
The oleogel acts as a middle phase to improve the dispersion stability of magnesium silicate hydroxide (MSH) nanoparticles in PAO base oils and simultaneously enhance the tribological properties of oil samples. The oleogel is comprised of Sorbitan monostearate (Span60), MSH nanoparticles, and PAO oil which is used as the gelator, anti-wear phase, and the base stock, respectively. The prepared oleogel and PAO oil are mixed by stirring to achieve the dispersion of MSH nanoparticles in oil. Centrifugal experiments showed that dispersion stability of MSH nanoparticles can be greatly improved through the oleogel middle phase. Tribological tests also show that the oleogel can further enhance the anti-wear and friction reduction performance of the lubricating oil.
×