2011 | OriginalPaper | Buchkapitel
11. The Disposal of Municipal Solid Wastes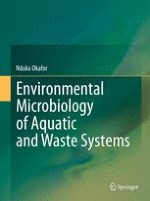 Erstes Kapitel lesen
Autor: Nduka Okafor
Verlag: Springer Netherlands
Abstract
The publication of Rachel Carson's
Silent Spring
(1962) stimulated eventual worldwide interest in the environment, leading to the founding of the United Nations Environmental Programme (UNEP) and the inauguration of national environmental ministries, agencies or laws world-wide.
Solid wastes management involves waste reduction, reuse and recycling, composting, incineration with or without energy recovery, and landfilling.
Modern incinerators scrub the flue gases of incineration to reduce the harmful components. Newer methods of treating wastes include plasma arc gasification, in which waste is treated at very high temperatures and pressures, melting the waste into a nontoxic dross and yielding a fuel, syngas, for generating electricity. Pyrolysis operates at about 430°C. Supercritical water oxidation (SCWO) is the destruction technology for organic compounds and toxic materials at very high temperature and pressure, converting them to carbon dioxide, hydrogen to water, and chlorine atoms to chloride ion.