2008 | OriginalPaper | Buchkapitel
The DoD Encounters the Blogosphere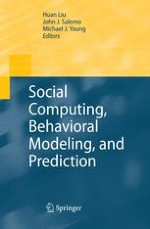 Erstes Kapitel lesen
Autor: Rebecca Goolsby
Verlag: Springer US
Social computing is exploding and the imagination of the Department of Defense is overflowing with ways to exploit this brave new world. Do jihadists have Facebooks? Can "we" (the good guys) use our technological genius to discover and surveil "them" (the bad guys) as they express themselves and seek to find an audience in blogs, forums, and other social media? Can "we" find the bad guys? This electronic spygame excites some, while other reject it as unworkable, undoable, and maybe not even desirable. Certainly the question of who "we" are is problematic.
Blogs and related social media provide windows into culture, insights into social processes, opinion and political activity, that much is defensible. In places like Iran, where Westerners have few direct contacts or opportunities to interact with the local people, blogs provide critical understandings of how thousands of people construe the world. The blogs themselves are implicitly biased samples, but if one can account for those biases, one can glean an improved awareness. Conceivably, "adversarial" blogs can enrich our understanding of goals, objectives, and reasoning of those who might support anti-Western violence either implicitly or actively.
The Department of Defense is very aware of blogs. They are consummate bloggers, with hundreds of blogs on the two highly classified networks that serve this community (JWICS and SIPRNet). Like other Westerners, they frequently read commercial and media blogs, such as Slashdot, Slate, Wired, and even Wonkette. They imagine the "adversary" has a mirror image "cyber-underworld," where there are equivalent facilities. Is there an easy way to find cyber-underworld that is serving as a mass recruitment source? What does this cyber underworld really look like? What do we know about it and what do we need to know to begin to put together the right questions? Is "targeteering" a feasible goal? What sort of research into blogging and social media should the DoD support in order to diminish violent behavior? In order to better understand the social worlds in which the DoD must accomplish their missions? What kinds of boundaries and safeguards should be put around this type of research in order to ensure ethical research behavior? Who should be involved in developing a research agenda for social computing, national security and defense?