21.11.2019 | Research Article | Ausgabe 2/2020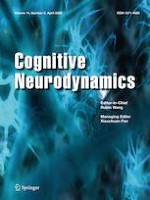 The dynamic properties of a brain network during working memory based on the algorithm of cross-frequency coupling
Zeitschrift:
Autoren:

Wei Zhang, Lei Guo, Dongzhao Liu, Guizhi Xu
Wichtige Hinweise
Publisher's Note
Springer Nature remains neutral with regard to jurisdictional claims in published maps and institutional affiliations.
Abstract
Working memory (WM) refers to a memory system with limited energy for short-term maintenance and plays an important role in cognitive functions. At present, research regarding WM mostly focuses on the coordination between neural signals in the signal microelectrode channel. However, how neural signals coordinate the coding of WM at the network level is rarely studied. Cross-frequency coupling (CFC) reflects the coordinated effect between different frequency components (e.g., theta and gamma) of local field potentials (LFPs) during WM. In this study, we try to map the changes that occur in the brain networks during WM at the level of CFC between theta-gamma of LFPs. First, a 16-channel brain network by using the CFC between theta-gamma of LFPs during WM was constructed. Then, the dynamic properties of the brain network during WM were analyzed based on graph theory. Experimental results show that the LFPs power increased at the WM state than at resting stat, but decreased across learning; the CFC between theta-gamma increased with learning days and phase-amplitude coupling (PAC) in the WM state was higher than that in free choice state and rest state; the changes of average degree, average shortest path length and global efficiency had significant difference on learning days. We can indicate that the CFC between theta-gamma in the network plays an important role in the WM formation. Furthermore, correct storage of WM information will not change local information transmission and the small-world attribute, while, it can increase the network connection and efficiency of information transmission.