01.06.2011 | Ausgabe 11/2011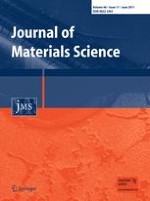 The dynamic water vapour sorption properties of natural fibres and viscoelastic behaviour of the cell wall: is there a link between sorption kinetics and hysteresis?
Zeitschrift:
Autoren:

Callum A. S. Hill, Yanjun Xie
Abstract
In a previous article, the sorption kinetics' properties of a range of natural fibres were reported. Analysis of the sorption kinetics was made using the parallel exponential kinetics (PEK) model, and it was argued that the rate limiting step of the sorption process was determined by substrate swelling rather than being diffusion limited. The PEK model divides the sorption kinetics curve into two first-order kinetics processes (fast and slow) but there is as yet no generally accepted explanation of what these two processes represent. In this article, the PEK parameters for sorption have been further evaluated in terms of two Kelvin–Voigt elements arranged in series. The force constant in the spring of each Kelvin–Voigt elements determines the equilibrium moisture content for each of the processes, whereas the viscosity of the dashpot is represented by the time constant for each process. Determination of interfibrillar matrix modulus using the Kelvin–Voigt model gives values that are in line with what would be predicted, giving credence to this interpretation of the sorption kinetics. Possible interpretations of the fast and slow kinetics processes are discussed.