14.09.2018 | Ausgabe 1/2019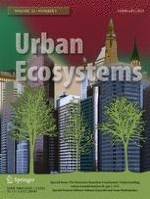 The ecology of littoral zone Chironomidae in four artificial, urban, tropical Malaysian lakes
Zeitschrift:
Autoren:

Jin-Min Lee, Jing-Ye Gan, Catherine Mary Yule
Abstract
Urbanization is increasingly compromising lakes in the rapidly developing countries of tropical Southeast Asia. Greater understanding of the ecology of tropical lakes is essential in order to determine the best ways to protect and manage them. A comparison was made of the species richness, abundance and diets of Chironomidae in two forest lakes (both created by damming rivers - one in an urban forest reserve, one adjacent to an urban area) and two urban park lakes (ex- tin mine lakes) in Kuala Lumpur, Malaysia. 19 species of chironomids were recorded (10 collector-gatherers, one collector-filterer, one shredder, 3 predators and 4 predators/grazers). The most abundant species were
Polypedilum leei
,
Tanytarsus formosanus
,
Zavreliella marmorata
and
Procladius
sp.. Conductivity was highest in the urban park lakes due to pollution. Temperature was also highest in the urban park lakes due to lower riparian canopy cover and lower macrophyte abundance. Larval abundance (mostly collector-gathering Chironominae) was significantly higher in the forest lakes compared to the urban park lakes, which could be related to cleaner water and higher vegetation cover which provided more food resources (leaf litter and periphyton) and more microhabitats. Predatory tanypods were most abundant in forest lakes which also had the highest numbers of their prey (Chironominae). Four predatory species of Tanypodinae supplemented their diet with blue-green algae in two of the urban lakes. Only one collector-filterer (
Corynoneura
sp.) was recorded (only in the forest lakes).