Erschienen in: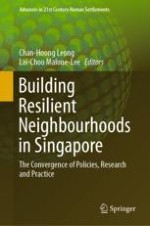 2020 | OriginalPaper | Buchkapitel
The Ecology of Neighbourhood Resilience: A Multi-disciplinary Perspective
Abstract
Policy makers and planners increasingly recognise the importance of social resilience in driving collective response and action, and build community capacity to cope with and overcome adversity when they arise. It is also recognised that social resilience involve consistent efforts to build stronger and more cohesive communities in themselves, not only to respond to adversities and warding off future threats, but also as a means to strengthening social ties and addressing inequities that may exist for vulnerable or marginalized groups. This is in line with the aspirations of the New Urban Agenda which was adopted as a shared vision by the global community for a better and more sustainable future—one in which the tenets of inclusiveness, equality, participatory involvement and strong governance are vigorously promoted. The essays in this book contribute to the on-going discourse on these thematic areas and, using Singapore as the contextual backdrop, highlight how cities can embrace this new urban paradigm in the way they are planned, designed, developed, governed and managed.